It's officially spring, the week of cherry blossoms have come and gone, and we're starting to get temperatures in the 70s, yet I'm still not ready to let go of winter. I'd like to blame the couple days of rainy weather California has seen in the past few weeks and not my own desire to keep wearing my absolutely too-comfy winter coats.
When spring forward rolls around, I typically give up my steamed milk and switched to iced lattes, but this year, I'm holding firm and refusing to make the transition. There's probably no drink I enjoy more than a mocha–even the splashiest, fanciest, syrup-iest cocktail can't step to the chocolate + espresso + steamed milk combo. While the iced version is just as tasty, I'm a sucker for aesthetics, so latte art of any kind is half the reason why I go to coffee shops to begin with. (Attractive baristas and free wifi divide up the other fifty percent.)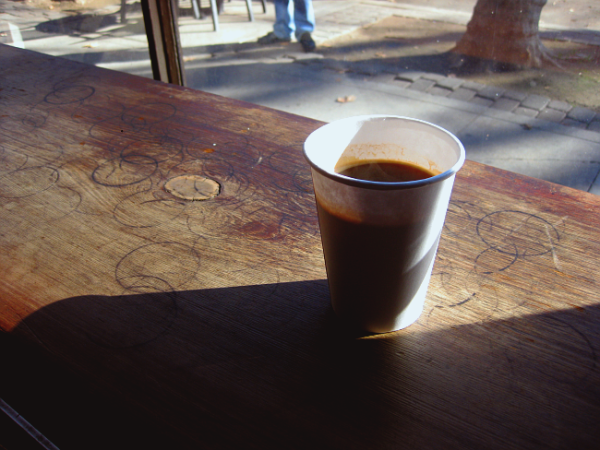 Michael Chiarello's Bottega Ristorante in Yountville, Napa Valley had a killer menu, though disappointingly meat-centric. Still, the few veggie options all looked great, and my dish didn't let me down. I ordered the cabernet strozzapretti with toasted black walnuts, plumped raisins, ricotta salata, fried rosemary, and Syrah grapeseed oil. The cabernet didn't just add color to the pasta, but a rich flavor that even blindfolded you could recognize as unique to red wine. The raisins and walnuts gave it a sweetness that was almost dessert-like. Of course, I'm serious about my dessert, and followed it up with the brick-like peanut butter and dark chocolate brownie bar at Dean & Deluca.
Looks like worms, tastes like heaven
I'm not a huge breakfast person (eating cereal with soy milk for breakfast every single day is a great pleasure, not a bore), but every now and then I decide to expand my horizons a little bit. After weeks of putting it off, I finally got around to trying Orphan Breakfast House, and now I think I'm a little in love. Their pesto egg scramble with roasted potatoes and rosemary toast is divine, especially with a hearty dash of Tapatio, and the slightly tart blueberry and cornmeal pancakes had the perfect balance of funk (the cornmeal crunch!) and classic taste (I know plenty of people say a pancake isn't real if it doesn't have buttermilk).
Not a bite escaped me
When I had moved back to Northern California after living in LA, I was certain that the food world here would bore me. But with Napa and San Francisco both a short drive away, and a blossoming local restaurant scene getting more sophisticated and varied every year, I am happy to know that my fears were unjustified. The coffee, vegetarian food, and hell, even a lot of the Mexican is just as good up here, if you know where to go.
And yeah, sure, it's true that there's no Sprinkles Cupcakes in town, but that's what my own oven is for.